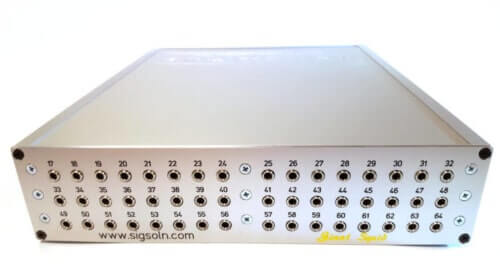 Webinar: Noninvasive Method For Studying Sleep In Rodents
Sleep is critical to health and yet is rarely measured in animal models. This webinar highlights a noninvasive method for studying sleep in rodents. Topics covered include 3Rs, user experience, automation, and data analysis.
Sleep research has historically focused on the basic functions and regulation of sleep, and genes that influence sleep. As details of the relationship between sleep, health and disease have become clear, sleep studies are of increasing interest to researchers beyond the sleep field. The availability of user friendly technology provides a platform to easily incorporate sleep behavior into disease models and relevant applications, as well as provides a simpler method for investigating basic sleep functions.
In an exclusive webinar sponsored by Signal Solutions LLC, Dr. Bruce O'Hara will discuss methodology, best-practices and use studies of the PiezoSleep system. Discussions will focus on how these techniques can answer questions about animal behavior, phenotyping and relationships between sleep and disease. Dr. O'Hara will review methodology and measurement techniques while highlighting the benefits of the PiezoSleep system that can assess sleep, wake and breathing variables.
The webinar is THURSDAY, FEB 16, 2017
11:00 AM – 12:00 PM EST (UTC-5)
Interested attendees can sign up here: PiezoSleep Inside Scientific Webinar Registration 
Key topics covered during this webinar will include…
The importance of sleep to health and disease
How different physiological outputs can be used to track sleep
Benefits of noninvasive sleep studies
Setting up a Noninvasive Sleep Study
Data Collection and Analysis
Use study: How noninvasive methods enhance research
PiezoSleep Behavior Tracking System
Signal Solutions, LLC novel and patented technology allows researchers the ability to monitor sleep/wake states in mice in a completely non-invasive way; eliminating the need for technical expertise fro surgical procedures and scoring collected data. The PiezoSleep system self-scores sleep/wake states. The system software allows for easy access and interaction with collected data.
The PiezoSleep system is an alternative to traditional EEG-based systems for monitoring sleep/wake activity in mice. Systems can be scaled from a single cage to 64 cages on a single SquidBox (signal processor). Multiple SquidBoxes can be incorporated for scaling beyond 64 cages. All PiezoSleep cages are custom and include all hardware/software for a true turn-key start.
The Sleep-Wake Behavior Tracking System has been deployed in multiple sleep phenotyping efforts in mice, including:
école supérieure de physique et de chimie industrielles de la ville de Paris (ESPCI Paris Tech)
Helmholtz Zentrum München (The German Mouse Clinic)
Oak Ridge National Laboratory
Oxford University
Smith College
SRI International
Stanford University
The Jackson Laboratory
University of Lausanne
University of Pittsburgh
University of Tennessee Health Sciences Center
University of Texas Health Science Center, Houston
Washington State University
Weill Medical College of Cornell University
Western Kentucky University
Yale
Additional systems are being implemented on an ongoing basis. Contact Signal Solutions, LLC for more information and get a quote on a system that suits your project goals.
https://www.sigsoln.com/wp-content/uploads/2017/02/back-e1486618589112.jpg
444
800
dennis.birkemeier@gmail.com
https://www.sigsoln.com/wp-content/uploads/2016/03/logo1-300x60.png
dennis.birkemeier@gmail.com
2017-02-06 20:42:00
2017-12-04 21:49:41
Exploring New Options In Sleep Research